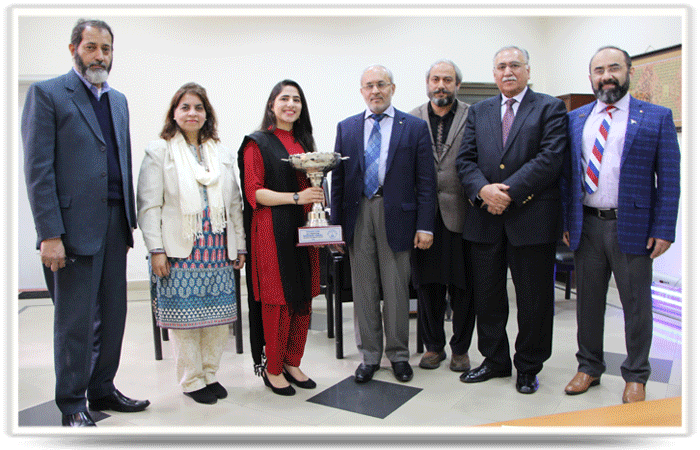 IAS is proud to share the tremendous achievements of its students in recently held extra-curricular competitions:
Students from IAS participated in Inter-departmental competitions (Nov 2019 – January 2020) of Ghazal, Nazam, and Bait Baazi University of the Punjab.
Ghazal: 1st Position: Shahroze Javaid (MPA-Evening)
Nazm: 2nd Position: Hafiz Muhammad Talha Shafiq (MHRM 19-21)
Bait Bazi: 3rd Position: Shahroze Javaid and Maryam Iqbal (BS Management 2017-21)
Ms. Tabsheesh Fatima student of BS Management (6th Semester) lifted the Team Trophy with her fellow at All Pakistan Sardar Iqbal Bilingual Declamation Contest held on 8th February 2020 arranged by Pakistan College of Law.
Ms. Tayiba Ashraf - student of BS Management (6th Semester) secured 1st Position at Taekwondo Intercollegiate Championship held on 10th February 2020 at University of the Punjab, Lahore. She was representing University of the Punjab teaching department. Punjab University secured 7 Gold Medals, 1 Silver Medal and won the team trophy.